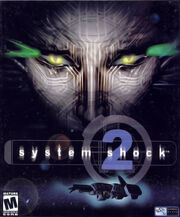 System Shock 2 was developed by Looking Glass Studios and Irrational Studios and released by electronic Arts in 1999.
Plot
[
]
The year is 2114. You are a soldier aboard the faster-than-light spaceship Von Braun. You wake up from cryo-sleep with an illegal cyber-neural implant and surrounded by corpses or monsters.
Reception
[
]
Like its predecessor, System Shock 2 had poor sales in spite of excellent reviews, and is now considered a cult classic.
Screenshots
[
]
External links
[
]