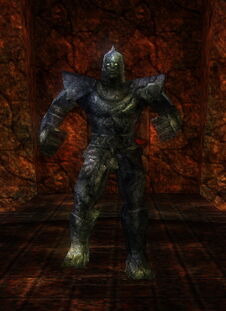 The Stone golem is the weakest of the three Golems in Hexen II appearing in the Medievel Hub and the Plaza of the Sun Hub. He is cumbersome and slow so fairly easy to deal with particularly with ranged attacks. Up close he is nasty so only get in close if you are confident abouot your melee capabilitiy.
Health

200

Damage

Punch: 0-22

Slide: 20-30

Special
Community content is available under
CC-BY-SA
unless otherwise noted.