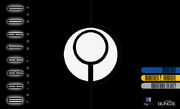 Marathon Trilogy Box Set is a compilation of the Marathon series, released in 1997 by Bungie Software for the Apple Macintosh computer line.
Contents
[
]
Two CD-ROMs containing the games and extras
Instruction manual
The Marathon Scrapbook (photos and stories about the games' development)
3 stickers
Registration card
leaflet for the CD-ROM magazine Inside Mac Games
Contents of the CD-ROMs
[
]
Disc I: Marathon Trilogy
Pathways Into Darkness (Bungie's earlier FPS/adventure)
Gnop! (Bungie's first game, a Pong clone)
Marathon early betas
Demos for all the games, as well as Abuse
Screenshots of then-upcoming strategy game Myth
Forge (level editor)
Forge video tutorials
Anvil (physics, shapes, and sounds editor)
Marathon wallpapers
Disc II: The Definitive Map Collection
Over a thousand maps
Archive of the online "Marathon Magazine"
External links
[
]