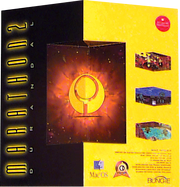 Marathon 2: Durandal is an FPS by Bungie Software, released in November 1995 for the Apple Macintosh computer line. It is the second game in the Marathon series.
Plot
[
]
17 years after the events of the previous game. Artificial intelligence Durandal sends you and a team of former Tau Ceti colonists to the ruins of the S'pht home-world, Lh'owon. There you must find a legendary weapon that could prevent Earth's invasion by the Pfhor.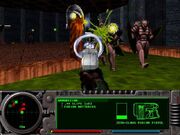 Releases
[
]
Marathon 2 was originally released for the Macintosh, and the next year ported to Windows. It was subsequently released for the failed Apple/Bandai Pippin console as a 2-in-1 pack with the previous game, under the title Super Marathon. The series was re-released in 1997 as Marathon Trilogy Box Set.
After Bungie was acquired by Microsoft, they made the Marathon series open-source and freely distributable, which led to fan-made ports and technical improvements.
In 2007 Marathon 2 was ported by Freeverse Software for the Xbox 360 console, with improved graphics.
External links
[
]