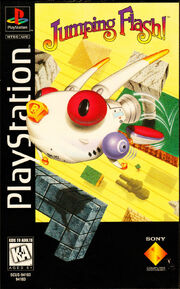 Jumping Flash! is an FPS/platformer developed by Exact and Ultra, and published by Sony in 1995 for the PlayStation. It is perhaps the earliest first person shooter with fully polygonal graphics on a game console.
Plot
[
]
Mad scientist Baron Aloha uses giant machines to take massive chunks off of Crater Planet to turn them into private resorts. In response, the Universal City Hall sends the Robbit, a jet-propelled robot rabbit, to save Crater Planet from destruction.
Gameplay
[
]
Jumping Flash! follows the gameplay style of Exact's previous game, Geograph Seal, with a mix of shooting and platforming. Robbit can destroy enemies by either shoot or stomping them. He can also double-jump or even triple-jump, and when he does, the camera automatically pans down.
Series
[
]
Jumping Flash! 2

(1996)

Robbit Mon Dieu

(1999)

Pocket MuuMuu

(1999)
External links
[
]