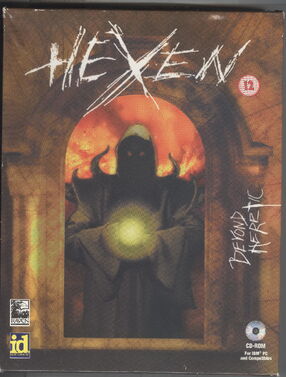 Hexen: Beyond Heretic is the second game in the series and follows on from Heretic as the second game in the Serpent Riders Trilogy. Hexen was developed by Raven Software using the Doom engine and released in 1995. An Official expansion pack was released in 1996.
Hexen like Heretic is set in the land of Cronos. The main antagonist is Korax one of the three Serpent Riders, but, before finally battling him you have to defeat his minions:
Game Play
Edit
Hexen introduced some new concepts to the genre:
Game Structure
Edit
There are five Hubs:
And five individual maps; Winnowing Hall, Bright Crucible, Sacred Grove, Deathwind Chapel, and Desolate Garden
Weapons, Items, Artefacts and Monsters
Edit
Community content is available under
CC-BY-SA
unless otherwise noted.